LALLYBROCH 1 Day Tour 9 Hours £150.00 pp (Includes lunch and entry into all locations)
THE FORT
The Garrison Commander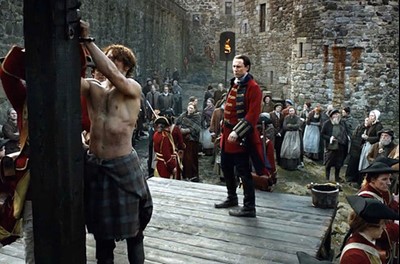 Season 1, Episode 6.
Just one of the many prisons that Jamie had to endure. The headquarters of "Black Jack" whipping Jamie is a sight to behold, fortunately we only have to see it in our minds eye and not in our own time and space. This impressive 15th Century Fortress provides the setting for Black Jack Randal's Fort William Headquarters as well as featuring some bloody and brutal scenes form Jame's incarceration. The Fortress is also know as the "Ship that never sailed" due to the unique design.

LALLYBROCH
Season 1, Episode 12
The family home of the Fraser Clan. Many happy, peaceful memories for Jamie and Claire and many memories that need to be left in the past.  But still, a place of mystery and intrigue...
A 16th Century Castle with it's own history, it is fitting that it has been home to many families across the centuries for Lairds to gamekeepers alike.  This stunning location ignites the imagination of all Outlander fans and we know you will not be disappointed.
LUNCH (The Crown & Kitchen)
A warm welcome awaits for our guests, where everyone feels welcome, local or not.

THE WATERMILL
Season 1, Episode 12....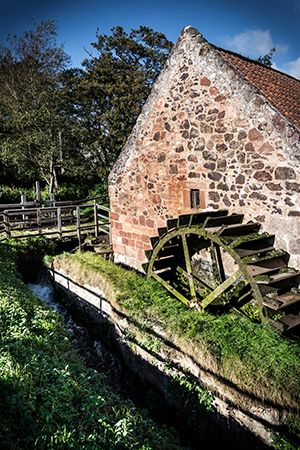 Yes we are still on the same episode, and Jamie gets into the cold water of the burn, naked as the day he appeared on the Earth, jumps in and tries to free the water wheel that has not been working....the water was VERY COLD...!!! This iconic Mill dates back to the 18th century, although there has been a mill on the site since the 16th Century. It was commercially viable until recently as 1959 and is one of our favourite locations on the tour.


THE WEDDING
Season 1, Episode 7...
A very moving time for all concerned, none more than Claire who had two marriages from the two men in her life...one in George Square (as we have already seen) and one in the Auld Kirk...

WENTWORTH PRISON
Season 1, Episode 15...
We find ourselves coming not only to the end of our first season, but to the end of our tour...
Saved from the rope, but to a fate much worse? Living is living, as they say...